DRIVE OUT WITH TROPHY RUSA
Bernard and Marie-Claude GAUZERE will welcome you, on their property of 634 hectares located at Paddock de la Boutana (rooms and table d' hosts) in Pouembout, for an initiation with hunting.

"THE HUNTING ZONE"
The world record of the Rusa trophy was made in New Caledonia. It is up to date 105 centimeters.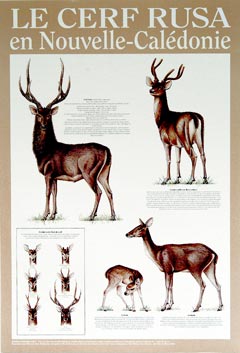 At Paddock de la Boutana we offer you a package of 2.550 € (euro) for 5 days.

Including/understanding:
The trophy until 90 centimeters, beyond this size see with the owner.
Preparation of the cape before transport.*
The hiring of a rifle (300 Magnum - 270 or 222)
L' herbergement 4 nights. Meal evening, spade screws midday - small lunch lasting stay.
* - the guide.
Options:
Eventually the transport for going and coming back Nouméa/Pouembout/Nouméa can be arrange by the guide. Pouembout is about 3:30 hrs. of Nouméa.

The transport costs of the cape and the trophy are in charge of the hunter.

For references of Paddock de la Boutana, see: Petit fûte, le guide hachette, Lonely planet and of course our tourism organization in the Northern Province.
Reservation: 15 days in advance.